In the market for a new pair of
New
Balance
sneakers? If so, then this essential guide to New Balance sneakers will be the perfect companion to read over when you are ready to make your purchase.
For a great pair of everyday
sneakers
pick up the 805 sneakers. Comfort and style all breathed into one effortless shoe. These sneakers are great for the gym, for walking, or for running errands. In breathable leather and mesh uppers, these shoes will breathe with you no matter how strenuous or lazy your activities may be. The Absorb inserts provide extra shock absorbency when you need it. At only $85.00, these sneakers will be your favorites to slip on when you are running out the door.
For a moderate trainer style, pick up the WR769 sneakers. These feature New Balance TS2 medial posts for smooth stability no matter your
surface
. In addition to that exciting technology, these sneakers also feature the ACTEVA midsole with D.T.S. in the heel and ABZORB in the forefoot to 'provide a responsive and cushioned ride'. These sneakers will be heaven sent if you enjoy trail running or running on the street. You won't have to worry about impact issues with these sneakers on your feet. The blown rubber forefoot, PHANTOM liner, 360 degree reflectivity, dual density collar foam, full length ABZORB strobel board, and forefoot flex grooves are just a few of the myriad of features designed to keep you comfortable no matter your activity.
For a low profile training shoe for you gym rats out there, pick up the WR904 sneakers. With medial stability through the New Balance TS2 postings, these shoes maintain a smooth and responsive transition. These sneakers feature ABZORB, ACTEVA ULTRA LITE, NLOCK, SURE LACE, and has lightning dry lining. These sneakers also offer forefoot flex grooves, a lightweight mesh upper, blown rubber forefoots, and a dual density collar foam. The unique and vibrant colors will also get you in the mood to get fit! Pick these up today!
The WR800 sneakers are a high mileage trainer designed for the neutral runner whose 'gait cycle starts are the midfoot area'. These shoes feature all the typical New Balance technology designed to keep you comfortable and safe such as ACTEVA ULTRA LITE, ABZORB, Midfoot, Ndurance outsole, and the blown rubber outsoles. These sneakers are so comfortable, you will find yourself wearing them even when you aren't working out. Pick these up at the great price of $119.95.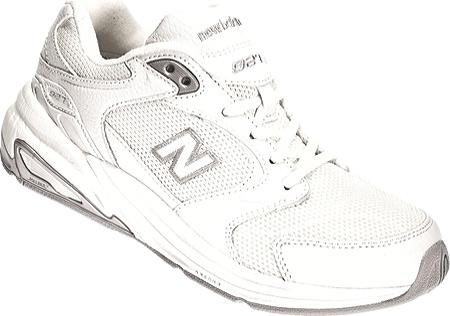 If you are in the market for a pair of black sneakers that are great for walking then the WW927 sneakers are for you. These motion control sneakers are great for those who require maximum control and superior comfort features. These sneakers feature a
leather
upper
, maximum shock absorption, a compression molded EVA sole for cushioning and flexibility and a stabilizing outsole that supports your foot. Don't be afraid when the hill or rocky trail comes your way. These shoes will keep you steady and on foot without any safety issues. These will be your favorites to wear when comfort and fitness are your main goals.
This essential guide to New Balance sneakers is sure to guide you in the right direction no matter your activity!